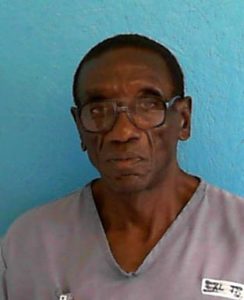 Oscar Giles was born in 1949. That would make him almost seventy years old today. I look at his photo, and I see such sadness. There is loneliness in those eyes too. What I don't see is menace. Just weary defeat.
There are some things that are no brainers. We come across things in life that don't require any intelligent thought or deciphering to figure out. This is one of those things.
Oscar was incarcerated in February of 1979 in the state of Florida. He had broken into a liquor store at 3:30 a.m. There was no one inside, and he was caught shortly after the incident. There was a gun found in the vicinity that the authorities attributed to Oscar. I am not sure if he ever said it was his or not. No one was harmed or present at the time of the crime.
Oscar was charged with a few things. Among the charges was Armed Burglary. For that offense, he received life in prison.  A punishment of that magnitude is lost on so many. People don't often think about it longer than the time it takes them to read the news article about someone receiving it. Unless you are seventy years old at the time of your arrest, life in prison may be considered worse than death by some.   There's no coming back from that. There's no redeeming yourself. There is no chance of forgiveness. That's it. No longer will you ever receive love and physical affection of family and friends. There is no picking up the phone when you want. Not even mailing a letter if someone doesn't pay for your stamp.
In 1979, I was eleven years old. Oscar has been incarcerated since I was eleven. I've had four children and a granddaughter in that time. When this man committed his crime, he didn't have the advantages some of us have. He had a tenth grade education. He worked as a laborer. He wasn't in that liquor store to hurt anybody. He made a reckless choice in a hard life. Not a hurtful choice. It was a nonviolent crime.
One article I read indicated that Oscar has had one visit since he's been in. In the state of Florida, you can't send him an email. I can't tell him he has not been forgotten. I will slip a note into the mailbox tomorrow and hope it reaches him by Christmas. I don't know this man. But one look at him tells me he doesn't need to be in there anymore. That's all it takes is one look. It's a no brainer. When are we going to quit destroying people's souls and calling it justice. This isn't justice.
I found Oscar Giles on JPay. His DC Number is 067434. From what I have been able to locate, he can be written to at:
Giles, Oscar DC# 067434
Tomoka Correctional Institution
3950 Tiger Bay Road
Daytona Beach, FL 32124
REFERENCES:
"Harsh Justice in America." Harsh Justice in America. N.p., n.d. Web. 18 Dec. 2016.
"Oscar Giles: 37 Years (and Counting) for Non-violent Offenses – Updated." Wobbly Warrior's Blog. N.p., 04 Nov. 2016. Web. 18 Dec. 2016.