The following story is completely true. The names haven't been changed, because in this day of fake news and alternative facts, there are no longer any innocent…
I've been incarcerated for 8847 days. That being said, I've seen a lot of things that I've thought stood out in my journey. This is just one of them.
During my travels, I once did time on the French Robertson unit in Abilene, Texas—a large maximum security unit. At the time of my stay there, it was a very dangerous place for inmates and correctional officers alike.
It was 1995, and I had been there less than a year. I knew absolutely no one. I weighed 160 pounds, dripping wet. I was 34 years old, and I realized that I was probably going to have to fight to stay alive.
Now, I am not a fighter. I know a bunch of dirty tricks, which my dad taught me when I was young in order to avoid getting my butt kicked or picked on by bullies. I am also well versed in the art of psychological warfare.
When I arrived at the unit, I was shown my living quarters and left to my own devices. My cellmate, an older convict by the name of Ranger, looked at me and told me bluntly, "You're going to have to catch a square."
I asked him what that meant, and he told me that I would have to fight someone in order to gain respect so others wouldn't bother me. I looked out into the dayroom, and in one area near the TV, I saw a mountain, sitting, watching the television.
I figured that, if I was going to die, it might as well be "instantaneous", so I went down the stairs into the dayroom, and I tapped the giant on the shoulder. He turned and rose. Soon, I was looking level at his shirt pocket. I couldn't see around him, because he blocked the light.
He looked down and in a voice that would do any baritone monster proud, said, "What do you want, little man?"
I quickly pulled a notepad and pencil out of my back pocket and asked him, "Can I have your name, Sir?"
"My name is Mongo. Why you want to know Mongo's name?"
I explained to him that I was writing down all the names of the people whose asses I could kick. He looked at me for about three seconds, blank stare, furrowed brow. Then he started laughing so hard I thought I saw a tear come to his eye.
He patted me on the back and said, "You can't kick Mongo's ass, little man!"
I turned my pencil around and erased his name and said, "Well, let me take your name off the list then." This made him laugh even harder. (I think he might have peed a little bit, but I didn't point this out to him.)
Mongo said, "Little man, you the first to make Mongo laugh in fourteen years. I like you. You Mongo's friend."
Like my dad told me, the only way to eliminate your enemies is to make them your friends.
Mongo motioned for me to sit on the bench next to him. Because of his size, it was his television. He was watching cartoons. I imagined if he was home, he would have a large bowl of cereal and orange juice nearby—still in his pajamas (if they made pj's that size).
There was a commercial break, and he asked if I wanted a Coke. We were having such a good time, I decided that to decline such an offer might result in hurt feelings, so I said, "All right."
His cell (emphasis on the word HIS) was on the first floor. He had no cellie. (I'm hoping that was because there wasn't any room and not because he had eaten the last one!)  The cell was full of stuff. It looked like a Dollar Store. There were cases of soda, chips, soups, candy, radios, fans, hot pots—you name it. I asked him, "Mongo, where did you get all this stuff?" He replied, "People bring me stuff." Simply put.
Mongo was at least 6'5" tall and easily weighed over 300 lbs—not an ounce of fat. His hands were big enough to palm a basketball like it was a ping pong ball. His head would do a Brahma bull proud.
I later learned that Mongo was the product of a Samoan father and a Spanish mother. I also learned his real name, Davidson Alexander Munoz, born 10/16/63.
He had been incarcerated at age 18 and had been locked away for fourteen years — that meant he was 32 years old. He had done most of his sentence on the Coffield Unit in East Texas. His E.A. (Education Assessment) score was 3.1.  However, his I.Q. was measured at 85. Mongo wasn't stupid, he was ignorant.  He couldn't read or write, his language skills were Cro-Magnon — his social skills were, "Mongo want that."  And what Mongo wants, Mongo gets…
Over the next two weeks, we became friends. I learned about his childhood in American Samoa and his move to the U.S. to live with his aunt in Southern California. However, Mongo became a victim of the "law of parties." He was with several of his "friends" when they went on a road trip to Texas, and they held up a convenience store where one of the "friends" shot and killed the clerk. Mongo was in the car.
They gave him fifteen years for being there. I doubt, to this day, he ever knew what he was doing there, in prison, or why. Taking up space—a lot of space.
I also learned that he hadn't heard from or written to his family in ten years. I asked him why. "Mongo doesn't know how to write. No one help Mongo."
So, I told him to find the address, and I'd help him. "Address on left bicep." Sure enough, there was an address tattooed on his left arm, hidden well between the tribal art. It had been there a while. I guess it was the family's way of saying, "If found, return to this address." I know a milk carton wouldn't have been big enough. Heck, a bumper sticker wouldn't have been big enough.
So I went up to my cell and brought a couple of sheets of paper, a blank envelope, and a pen. The letter, in itself, was an example of innocence and need. Short on details, short in length, long in hope.
We finished the letter in less than 20 minutes. I folded it carefully and placed it in the envelope and addressed it. Mongo pulled a wad of stamps from his ID holder and placed five in the corner.  "It's a long way home." I totally agreed.
So, now I knew almost everything about my new friend. I asked him one day if he needed anything done. He said, "Feet hurt. Need boots." I looked at his feet (they looked like yards). His boots were too small. I asked him if he had any money in his account. "Mongo have money." Well, why don't we blue slip you a pair of boots. So I filled out a blue slip for him and asked him what size. "Don't know." I had him pull off his right boot. It was a size 18 ½, and it was too small. So I put 19 on the slip, and we mailed it to the commissary.
When it didn't come back, I went with him to the store, and we bought a pair of size 19 Rhinos. It had to have taken a whole cow to make the things.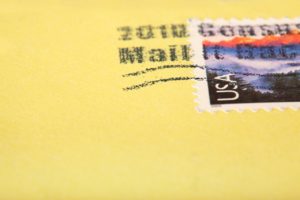 A week later, Mongo received a letter. It was from his mama. He asked me to read it for him. I read the letter, minus the scolding his mama gave him for not writing, saying that they were worried sick about him — fearing the worst had happened to their "baby" boy.
Mongo was the youngest of three sisters and four brothers. As I read the letter, Mongo was transfixed. He was silent. I told him he had a very nice family, and he needed to get out and go home. He nodded.
In the time I spent there, I taught Mongo how to read. It only took about 3 months. I doubt he would ever finish "War and Peace" in his lifetime, but he could write his own letters.
I left Mongo as I found him, sitting in the dayroom, watching cartoons. They (the Sheriff's Department) had picked me up on a bench warrant, back to the county of my arrest.
I told Mongo I was going on a trip, and that I hoped he would be all right. He asked me if I would be back. I told him that it was up to the system, but I had his TDCJ#, and I would check on him when I got to where I was going. I received one letter from him. I kept that letter for almost twenty years—it was thrown away in a shakedown.
When I was leaving, Mongo grabbed me and gave me a hug (one that I still feel to this day, because I think he dislocated something!). But, it is his friendship I miss the most.
My dad told me, "Never judge a book by its cover." He would have liked Mongo. That's good enough for me. My dad also said, "It's a small world, but I wouldn't want to paint it."
I think he knew I would meet the gentle giant…
John Green #671771
C.T. Terrell Unit A346
1300 FM655
Rosharon, TX 77583