While Mongo was the most interesting and misunderstood of my acquaintances since incarceration, Herman had to be the sweetest of my friends.  He was at least twenty years my senior and probably the closest thing to a father figure I've ever found in this place.  My own dad passed away in 1988.
Herman had a never ending love for all things Astros and Rockets.  If a game was on TV, he could be found in the dayroom with a cold drink or a cup of coffee, cheering or jeering at the screen.  That's where I found Herman during the '94-'95 season, when the Houston Rockets won their first world championship in basketball.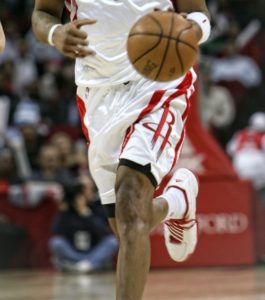 There he sat, surrounded by Rocket haters, watching Houston destroy Orlando in four games – a sweep.  I've watched and loved the Rockets since I was eight years old.  My Uncle Mike was stationed in San Diego at the time, and he took me to my first pro basketball game.  In their first two seasons, they were the San Diego Rockets, and they moved to Houston in 1970.  I've been a Houston Rockets fan ever since.
When I arrived, there was one Rockets fan watching the game – then there were two, Herman and I.  And so it began.  Over the next twenty years – off and on because they move fellas around like chess pieces in here – Herman and I would watch the Rockets and the Astros.  In between games, we'd play dominos (his game not mine, I can't count fast enough).  When he made store, he'd buy coffee and cookies, and when I got money, I'd buy enough for two.  We laughed at and told the same jokes, over and over again, as if they were being told for the very first time.  Herman was my bud.
If I didn't talk to anyone all day, I'd stop and talk to Herman for at least an hour.  We talked about everything.  He worked all his life in the oil fields and drew a pension.  When he retired at age 54, he drew SSI.  Herman was self sufficient.  Then he was given twenty years for his third DWI in '95.  He did 19 years, 6 months on that, and when they paroled him, they sent him to a drug rehab for six months before he finally got off paper.  Therefore, he served the entire sentence.
The system is full of guys like Herman.  It eats guys like Herman for breakfast, lunch and dinner.  Guys like Herman are good for the bottom line.
Herman still writes me once a month, twice if he's up to it.   I don't miss many people, but I do miss my buddy.  I'm sure he'll be okay though.  He's a tough old bird.  We survived nineteen years and six months in here together, how could he not be?
ABOUT THE AUTHOR  'Shipwrecked, Abandoned, Misunderstood', but he still has the things his father instilled in him – humility, respect and love.  In spite of 25 years behind bars, he continues to wake up every day holding on to his humanity and on a mission to change the world for the better.
John Green #671771
C.T. Terrell Unit A346
1300 FM655
Rosharon, TX 77583