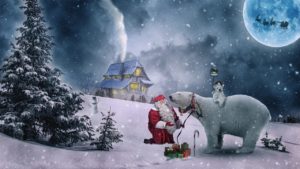 Remember when you were seven years old?  Take a trip with me, humor me if you will. You're seven.  You live in middle class America, and you've been strung along in the fantasy that Santa Claus exists.
You've spent twelve months cleaning your room, brushing your teeth and combing your hair.  You've refrained from pulling girls' pigtails and throwing pebbles at them – or spit balls.  You've eaten your vegetables, even broccoli, and you've been as invisible as a seven year old boy can be – because you've been told, if you're good, Santa Claus might bring you that new bike you've been asking – no, begging – for.
Then Christmas morning comes – you run down the stairs and look under the tree – no bike.  You run to the garage and look where your old bike still sits, just to check.   Your old bike…
By now, you're frantic.  You've been good for a year – a whole year!  You not only deserve a new bike, you earned it – so where is it?
I've been 'good' for the last five years, twenty-five if truth be told.  I've brushed my teeth, combed my hair, cleaned my room.  I've done every conceivable thing I've been told to do by my handlers.  I was told that if I did these things – which I would have done anyway – I'd be released on parole.
Simple enough, right?
No bike.  No bike for another two years – January, 2020.
After seventeen years of being on my best behavior (no problem with me), I'm set off from going home.  Now, in the grand scheme of things, 730 days isn't a long period of time, when you've already done 9,125 days, 720 is a drop in the bucket.
However, I'm not well.  As a matter of fact, my health is declining at an accelerated rate.  I'm 57 years old, not seven.  There are days when I barely have the energy, the strength, the will power to get out of my bunk, yet I still do.
There are days when I don't feel like putting all my stuff away, and playing the compliance game.  For years, I'd run a tab.  Then I'd get $20 and make a list out to go and buy hygiene products, stamps, maybe a snack or two and a diet coke for my dog, Sparky.
I'd get the Diet Coke – $.40.  $19.60 was owed to the state.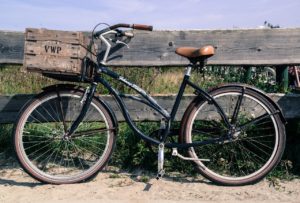 I lived like that for years – until Evelyn found me, inspired me, nurtured me and blessed me a thousand times over.  So, for the last two years, I haven't had to play 'The Company Store' game.  But, time marches on, people get tired, tired of waiting for you to come home.  They sometimes forget about you.  I understand this all too well.  I've been waiting for that bike since I was 48.
Next parole date is two years from now.  Nothing has changed.  I'm still the same good humored, good hearted person I've been all my life – except for that five minute period where I lost control.  I'm not going to change these things – ever…
ABOUT THE AUTHOR  'Shipwrecked, Abandoned, Misunderstood', but he still has the things his father instilled in him – humility, respect and love.  In spite of 25 years behind bars, he continues to wake up every day holding on to his humanity and on a mission to change the world for the better.
John Green #671771
C.T. Terrell Unit A346
1300 FM655
Rosharon, TX 77583