I've been meaning to write about the incredible amount of talent contained within prison walls, because I encounter it all the time.  I haven't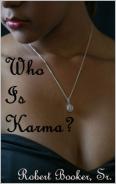 yet had the time to cover it all in words though, but I am adding the following links to the Make A Difference page.   Once again, Robert Booker has written two more novels from prison.  He has a total of four books now that are available through Amazon, in print and in e-book form.
You can purchase Booker's books by clicking on their titles, Push, Tony Jones, The Janitor, and Who Is Karma?
He continues to write, and he will have another novel coming soon.