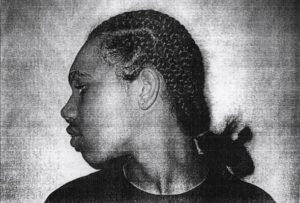 Travion Blount was fifteen years old when he got in trouble.  Described as a 'shy but happy boy' by his mother, in middle school he started skipping class and hanging out with the wrong crowd.   At the age of fifteen he went to a party with two older boys, and the three of them robbed the other people there at gunpoint, collecting drugs, cell phones and money.
The two older boys received ten and thirteen year sentences.  Travion, the youngest and the only one not to plead guilty, was sentenced to six life sentences, plus 118 years.   That sentence was later reduced to forty years.  With a forty year sentence, Travion will be fifty-five years old when he gets out, for a crime he committed at the age of fifteen years old.
Due to the length of his sentence, Travion has been kept in high security facilities.  He has continued to take classes and tells me he just 'tries to stay out of people's way'.  In the year we have communicated, he has never been anything but respectful.  He asks how my family is in every correspondence.   He asks how I am.
He deserves a second chance.  If you would like to read more about him, there are three articles about him right here on my blog.  But  – it is also easy to find out about him through a simple internet search.  The punishment he received was harsh.  I believe it was too harsh.  If you believe that also, please click here, and write an email to the Governor of Virginia, Terry McAuliffe.
Your message doesn't have to be lengthy, it may take only three minutes of your time, but if you feel Travion deserves a second chance, please take those three minutes.  I wrote one that was a little more personalized, but if you need help getting started, feel free to copy and paste the words I have below.   Simply put Travion Blount's name in the subject line, and start something like this:
Please consider a pardon for Travion Blount.  In 2006, at the age of fifteen, he committed a crime for which he has been in prison for ten years.   He is a young man now.  While incarcerated, he has taken classes to prepare for his future and he has a family that supports and loves him at home.  I respectfully request that you consider a pardon for Travion Blount.
That's it.  Please take a moment to contact Governor Terry McAuliffe if you feel Travion Blount deserves a second chance.  You can write your own words, or copy mine.  You can copy mine and add some of your own.   But, please, if you believe in second chances speak up for Travion.