Locked in a cell with nothing but pain,
Thoughts of injustice running through my brain.
Sitting on Texas Death Row, waiting to die
For a crime I've not done, you might ask why…
How did it start, where will it end?
Why did this horrible nightmare begin?
Why did she lie and condemn me to death?
I'll ask this question with my last breath.
I understand she was scared and alone,
But to blame it on me was wrong.
So, now I lay behind these walls of concrete and steel,
Waiting for justice on my appeal.
Kept in solitary confinement in this man made hell,
Empty inside, no longer a man, only a shell.
Missing my children all these years,
Shattered dreams, lost hopes, silent tears.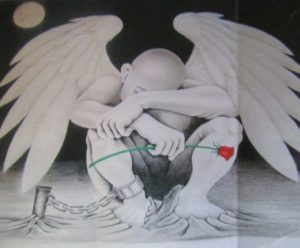 Angry for all the years I've lost,
Found faith for that man on the cross.
If not for the lord to help ease the pain,
The cruelness of this place would drive me insane.
When my day comes and it's my turn to go,
There's something I want everyone to know.
Life is short and often tragic,
Find the Lord, you'll find life's magic.
God bless you and me!
AUTHOR'S NOTE:  It's eighteen years later…
I've lost the faith.
Troy J. Clark #999351
Polunsky Unit D.R.
3872 FM 350 South
Livingston, TX 77351