On October 4, 2014, DeJuan Brison, age 26, hung himself with a sheet in a jail cell.  He didn't die that day, but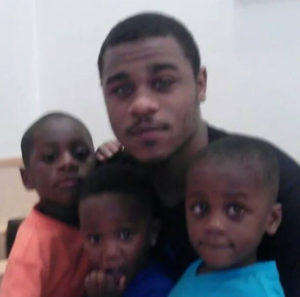 was taken to a hospital, where he passed away on October 21, 2014.  He had a mother, Christine Brooks, and a father, Robert Brison.  Christine said her son was 'sweet and humble' and a 'mama's boy'.  Brison grew up in St. Louis and was the father of four children, ages 4, 5, 6 and 7.
DeJuan Brison was originally being held at the St. Louis Justice Center.  Three days earlier, on October 1, 2014, he was arrested on a domestic violence case, but he was never charged.  Jails are required to release inmates if no charges are filed within 24 hours, but they can be held if they are wanted by another municipality.
Two years earlier, on August 28, 2012, Brison had been accused of stealing five sticks of deodorant, valued at $17.50, at a Family Dollar.  In that case, he posted a $300 bond, but he did not attend a 'financial responsibility' class that was ordered by the court.  Because he missed the class, a warrant was issued, and a $500 bail was set.  It was for this reason that the St. Louis Justice Center did not release Brison.  He did not have any new charges, but had missed his class.
It was while Brison was being held by St. Louis that he was placed on 'full suicide watch'.  That happened on October 2, 2014, one day after he was arrested. On October 3, the following day, another 'full suicide' form was filled out.  Later that day he was removed from full suicide watch and placed under 'close observation'.  After that, he was listed at one point on 'modified suicide watch' and 'close observation'.
He was transported to Jennings jail on the morning of October 4, where he was wanted in relation to the deodorant theft charge from 2012.  He communicated with the jailers that he had already paid his bail for the shoplifting case, but was informed he would have to tell it to the judge.
That morning he requested a call to have someone bring him his inhaler for asthma.  He was physically unable to complete his call, held his hands in the air, and laid on the floor.  Another inmate attempted to place the call for him, but there was no answer.
Right before noon that day, an ambulance was called to attend to Brison, and the emergency worker reported that he was making himself hyperventilate.   At 12:40 a guard walked by his cell.  At 1:21 a guard who was taking out the trash saw Brison hanging.
The Jennings jail was not informed about Brison's suicide watch when he was transferred.
Brison was somebody's young son and the father of four children of his own.  There were never any new charges against him, but it appears he was troubled, or he wouldn't have been placed on suicide watch during his brief stay in St. Louis in the fall of 2014.
Life is valuable.  Jails and prisons often lose sight of that.  People aren't people anymore there.  That reality is apparent to most people who have been in the system or known someone in it.  The climate in corrections is one of disregard for the humanity that it is their job to house and care for – like it or not.  That is their job.  That has gotten lost somewhere, behind walls that no one can see through.
As I type this, I just found out that a sweet woman I consider a friend was in a motorcycle accident this weekend.  The driver of the motorcycle was killed and my friend, the passenger, is in critical condition.  LIFE IS VALUABLE.  People aren't just numbers and cases.  This man was loved by people too.
DeJuan Brison was charged with nothing in 2014, but he was held in jail for several days, displayed suicidal tendencies, and was having breathing problems.  Before the week was out, a man who was a friend and loved one to some, a father to four and two people's son hung himself from a sheet in an empty cell.   He had breathing issues the same day, but rather than have him housed with other inmates who could monitor him, he was placed in a cell by himself.  He had been on suicide watch, but was in a cell by himself, unmonitored and with the material to allow him to hang himself.
REFERENCES
Kohler, Jeremy. "Man Who Hanged Himself in Jennings Had Been On Suicide Watch." Stltoday.com. St. Louis Post-Dispatch, 17 Aug. 2015.
Benchaabane, Nassiom. "Corrections Officers Ignored and Neglected Inmate Who Hanged Himself In Jennings Jail, Suit Says." Stltoday.com. St. Louis Post-Dispatch, 17 Feb. 2017.