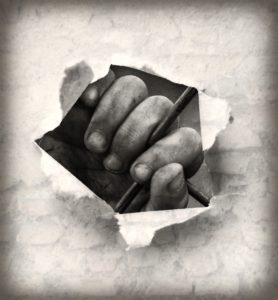 There is a mom in Florida going to visit her son this week.  His name is Bubba, and he lives in a Florida prison.  He's spent the last twenty years behind bars.  Bubba had a drug habit as a young man, and he resorted to robbery to get his next fix.  He had a gun, but he never pulled it on anybody.  He was given a life sentence for his crimes.
Life.
I don't know Bubba's history.  I have no idea how he found himself with an addiction so powerful, he needed to steal to feed it.  I DO know that so many of us or someone we know is, or has been, just a few circumstances away from that same place.  Let's face it – most of us have come closer than we would like to admit to some form of trouble, and we just didn't get caught.   People make mistakes.  People have weak moments and clouded judgment.  Sometimes jail can actually be a place where a person can temporarily be protected from making more bad choices.  But 'life'?  Really?
Don't we owe it to each other to show a little more compassion than simply throwing people away?  Life – you stay behind bars until you die.  That's what it is.  That's what we have become comfortable with, what we accept.  I don't want to be a party to this.  Silence is not an option.
These are the words of a mother who's boy went into prison in his early twenties, has been there for twenty years, and is sentenced to die there.
Talked to Bub late yesterday.  It is amazing how positive he is, living with his life sentence.  He is such an inspiration!  I learn from him all of the time.  He told me about the A.M. worship service – OVER 200 inmates!  He said the music was great, and the sermon was 'brimstone and fire'.  Bubba likes that kind of preaching, no whitewashing.
I asked him about the food, and he was so happy to have DECENT food!  'Mom,' he said, 'the biscuits are bigger than your fist.  I had more butter and jelly on my plate than I have had in the ENTIRE last 5 years, SEASONED potatoes and grits that were actually cooked the way they should be cooked.'  He also had eggs AND a banana.  He traded his eggs for a second banana.
This may seem like small stuff, but believe me, it isn't.  He has gone months without fresh fruit, and had years of eating only for survival, not because the food had any quality, taste, or nutritional value.
We talked again – about him getting transferred to the Faith based program.  I told him about all of the prayers and positive words from everyone.  He said, 'Mom, it really is a miracle.  You're not supposed to be considered until you have been DR (disciplinary report) free for a year. I had four months to go.'
Bubba has already witnessed major changes (for the better) in the short time he has been here, not only from the inmates' respect for one another and each other's property, but from guards as well.  He was also excited about the walking track.  He said if he walked it three times, he could walk a mile.  That's major!  He had already walked it once with an elderly inmate, about seventy, who has dementia.  Bub said, 'Mom, he can remember some things from fifty years ago and then not remember where his cell is.'  I know Bubba's heart went out to him, and I know Bub will do what he can for him.  That's just the way he is – always was…
He was also telling me this place has football, basketball, and softball (most places don't allow any group sports).  He was super excited about that, especially for the softball.  I reminded him that his dad was very good at baseball and was expected to get a baseball scholarship.  Bubba only knew Gordon as his dad, and he cherishes that, but I know in my heart – or at least I feel – that had Bubba not lost his father, he would not have suffered the traumatic things he did as a child.  Billy would have been there to help me protect him, before Gordon came into our lives…
We talked about his current roommate, someone like Bubba who has a heart for God, and we laughed about one of his most recent roommates, someone who had been convicted of cannibalism…  Bubba rode that one out pretty good.  When we talked about that character, he would laugh and say, 'Yeah, I sleep with one eye open'.  That same inmate was bragging on all of his 'accomplishments' when bubba first came into contact with him in their shared cell, showing Bubba newspaper articles about his crimes, etc.  I'll never forget what Bub said when I asked him how he handled that.  'Mom, I just told him MY GOD watches over me.  You have your articles, I've got MY BIBLE.'
Bubba has been through more than anyone should ever have to endure for the crimes he committed.  He has paid his debt to society.  Anyone who knows and loves him can agree to that, and I believe with all my heart that my son will one day come home.    But for now, we at least have 'biscuits bigger than your fist, more jelly and butter than I've had in five years and fresh fruit', fellow inmates who want to do their time serving God and not Satan, a great ministry throughout the entire prison and not just during service, a track to walk, softball teams, and clothing – yes, clothing.  There have actually been times when clothing has not been provided.  And, most of all, a new sense of Hope that comes from the Faith that keeps your spirit alive, trusting God's grace and mercy to answer prayers.
And, how I hope those prayers are answered.  For Bubba.  For his mom.  For a country that needs a better sense of what's important.  Throwing people away ISN'T okay.
This mom told me one more thing.  She told me about the 'sick' feeling she gets after a visit with her son, when she walks out the prison doors and leaves him behind.   She said that feeling sticks with her, "It never fully goes away…  When you eat, when you sleep, when you're with someone, when you're alone.  It's always there, in the back of your mind, in your heart, in every breath you take."