If you know how to cook, you can quit reading here – unless you're having a bad day and just need a laugh.  If you don't know how to cook, read on, let a convict teach you a thing or two.  Necessity is the mother of invention, they say.  You cook, you eat; you don't cook, you go hungry.
As a ten year old boy I discovered that if you could make mac and cheese, you could control your destiny.  So, by the time I was 18, I could prepare almost any meal that Graham Kerr or Julia Child could dream up.
Then I went to prison.  When you enter this place, you enter much in the same manner in which you were born – naked, crying and hungry.  There's not much to be said about prison food, though.  I will sum it up in one word—Ewwww!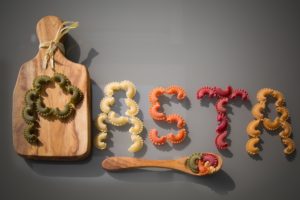 Get ready for endless pasta.  There are a variety of entrees involving elbow macaroni.  All those dishes taste pretty much the same, except for the tuna casserole – coined 'tuna massacre'.  When that is on the menu, I avoid the unit dining hall at all costs.  I also call this entre 'Little Friskies'.  The chow hall smells like a feral cat gang bang, and I haven't liked tuna since they removed the dolphin.
Then there's Beef Noodle Casserole, Pork Noodle Casserole, and Chili Mac.  Whenever I see the Hamburger Helper van on TV commercials I get PTSD – Pasta Traumatic Stress Disorder.
You can count on at least one of the seven days in a week including pasta.  It's cheap, readily available, and easy to prepare.  Boil noodles, drain, add meat.  Done.
Don't get me wrong, I love pasta, but overkill, not so much.  I've received letters from folks commenting on our lunch menu—"Oh, you're having fried chicken for lunch next Wednesday!" Don't worry, Col. Sanders, your secret is safe (as well as you, Chef Boyardee).
Let's talk about breakfast, shall we? The most important meal of the day, right?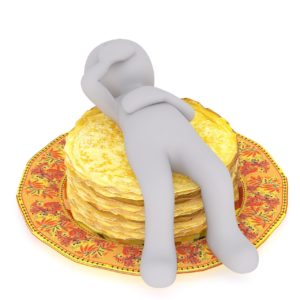 In the 9000 days I've been incarcerated, I've eaten a minimum of 8000 pancakes. Those not familiar with my problem with pancakes—I'm diabetic.  Carbohydrates are not my friend, but I have to eat something. So I'm caught between high and low blood sugar.  Another interesting fact about pancakes – if you fry them at 2 a.m., and put them in a warmer until 4:30 a.m. when they are served, they can almost stop a bullet.
Let's move on to what's available in the unit commissary. More carbohydrates?  Yes!  Ramen noodles—the backbone and breadbasket of prisons everywhere.  Add water, cook, mix in other ingredients, and serve!
Out of the frying pan, and into the microwave we go. You can buy Spam, chili, mackerel, squeeze cheese, jalapenos, corn chips, tortilla chips, salt, pepper, picante salsa, peanut butter, crackers and pesto – and you can temporarily stave off a trip to pasta land.
Believe me, after 9000 days, a tossed salad sounds extremely good.  You learn to get creative though, which takes me back to necessity being the mother of invention.  I will share one of my personal favorites:
INGREDIENTS
2 Ramen noodle soups-chili
1 jalapeno pepper
1 packet ranch dressing
1 package of Spam (2 oz.)
1 package saltines or round crackers
Cook noodles until well done.
Dice jalapenos and Spam.
Chill noodles with cold water and drain.
Combine noodles, jalapenos, and Spam.  Add ranch dressing.
Serve with crackers.
Total cost  at prison commissary $2.55.   Serves 3
Now, parents, while this may sound very cost effective for the children, this story is for entertainment purposes only.  Cook those kids a hot meal. Lots of vegetables, greens and NO pasta. They'll appreciate it, believe me.
John Green #671771
C.T. Terrell Unit A346
1300 FM655
Rosharon, TX 77583