My daughter says that when she walks close to our pastor – one of the most insightful men I've ever heard speak – she feels his spirit in the air around him.  What she feels in the air around him, I feel in his words.  Sunday he spoke of the fruit of the Spirit in our lives – love, joy, peace, forbearance, kindness, goodness, faithfulness, gentleness and self-control.   There is no side of the fence that can sensibly argue with trying to grow that kind of fruit.
When you see it – that fruit that is grown in people – it's awe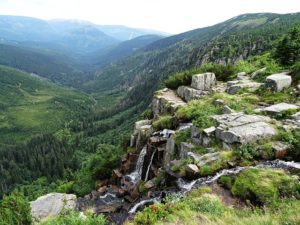 inspiring really, like the view from a mountainside with the clouds barely lifted.  I recently read something that a woman in Pennsylvania wrote.  Her name is Susan.  I see the fruit the Spirit grows in her words.  This is what she had to say about a simple act of kindness.
I live on a hot, busy, city street.  My cement porch sits right on the sidewalk, and many people without transportation walk by on their way to grocery stores, the drug store on the next corner, pizza shops, mini marts and yes –  to work.  There is a Triangle Car Wash two blocks away that hires people who are eligible for work release from the local county prison.
Last summer and this summer I put ice chests on my porch filled with free bottled water and snacks, like crackers, breakfast bars etc. – no strings attached.  I got numerous, heartfelt, Thank You notes, so I know this is needed and appreciated. This morning as I headed to my part time job, I passed a young man in worn clothes and sneakers, no electronics in his ears or hands!  –  so most likely from the local prison located 1.5 miles away, and on his way to that job I mentioned.  I think they serve prison breakfast fairly early, but I honestly don't know what folks on work release are able to do for lunch…
I always say good morning and wish people good day, which they can't hear if they have electronics in their ears, and then I said to him, "Hey, there's free cold water and snacks on that porch down a little ways if you'd like."
He gave me a big grin and thanked me, and as I pulled my car out of my parking spot and looked down the street, I could see he had stopped at my porch.  Yay!
Why am I telling you this? Not for any accolades, but because years ago, when my little girl was caught up in Heroin addiction and lost in another, even bigger, city 35 miles away, I would pray, "Please, Lord, may she meet good people, kind people who will help her," and she did.  Some were barely able to help themselves, but they were good people who knew the right thing to do, and eventually she was able to get into recovery and have a baby boy and marry and find a job as a Recovery Specialist and celebrate 19 years in Recovery. That is why I do this, so that others I may come in contact with will meet good people, kind people who don't turn away or look down upon them, and maybe that day, the day they found respite from the heat on a cement porch, will be a good day for them, and the good days will add up into a lifetime. We need to be there for each other in whatever way we can. Blessings, everyone. and as I have written on the note on the porch, "Freely given, please pass it on if you are able."
That is what life's all about really.  The first time I visited a prison, there were several things that struck me.  The coldness of the bars and the paint chipped walls was one.  The condescending treatment of inmates and their visitors by staff was another and something I didn't anticipate.  The gratefulness and joy on the faces of men in that room, regardless of their situation – that was so apparent.  Their gratitude for a bit of companionship from the outside, air conditioning in an otherwise non-air-conditioned facility, a smile, a microwavable frozen hamburger from a vending machine.  I sat next to the person I went to visit, treating that visit as if it were taking place in a fine restaurant, ignoring the scowls of officers and the ants and the harsh lighting.  I reached over after a time and grabbed his hand.  I just knew he needed human contact.  That moment was priceless.  I will spend of the rest of my life reaching out my hand.
This country needs more Susans.  Argue politics all you want, but there is nothing that compares with the value and importance of simple kindness and compassion.  It needs to be worked back into our corrections system.  Words to live by, "Freely given, please pass it on if you are able."